All brides want to look their best when it comes to wedding makeup. However, for African American brides, there are a few specific things to keep in mind when choosing your look. Here are some tips to help you create a beautiful and natural makeup look for your big day.
There are some great makeup tips for African American brides to help them look their best on their wedding day. One of the most important things to remember is that less is more when it comes to makeup. You want to accentuate your best features and create a natural, radiant look.
How to do wedding makeup for black brides
Here are some tips to help you achieve the perfect makeup look on your big day:
Prep your skin. Before you even think about applying any makeup, you must ensure your skin is in good condition. This means regular cleansing, exfoliating, and moisturizing up to the big day. A good skincare routine will help create a smooth canvas for your makeup and ensure it lasts all day long.
Use a primer. A good primer will help your makeup go on smoother and last longer. It's especially important to use a primer if you have oily skin.
Choose the right foundation. When it comes to foundation, you want to find one that matches your skin tone perfectly. Test out a few different shades before settling on one. Once you find the right foundation, apply it with a damp Beautyblender sponge for sheer, natural-looking coverage.
Conceal imperfections. Use a concealer to cover up any blemishes or dark circles under your eyes. Make sure to choose a concealer that is one shade lighter than your skin tone to brighten up the area without looking heavy or cakey.
Get the perfect brows. Frame your face with well-groomed eyebrows. Use a brow pencil or powder to fill in sparse areas and then comb through with a spoolie brush to blend everything.
Create defined eyes. Start by applying a neutral-toned eyeshadow all over the lid as a base. Then, use a darker shade in the crease to create depth and dimension. Finish things off with a few swipes of mascara on both the top and bottom lashes.
Add some color to your cheeks. For a natural-looking flush of color, apply peachy pink blush to the apples of your cheeks.
Pucker up. Complete your look with a swipe of your favorite lipstick or lip gloss. Choose a shade that compliments your skin tone and makes you feel confident.
Black bride makeup looks for your wedding
Your wedding day is one of the most important days of your life, so you want to look your best. This means choosing the right makeup to complement your dress and make you feel beautiful on your big day.
If you're a black bride, some amazing makeup looks will make you stand out. Here are some of our favorites:
Bold and Beautiful
For a truly stunning look, go for bold lip color and pair it with smoky eyes. This is a great way to make a statement and turn heads on your big day.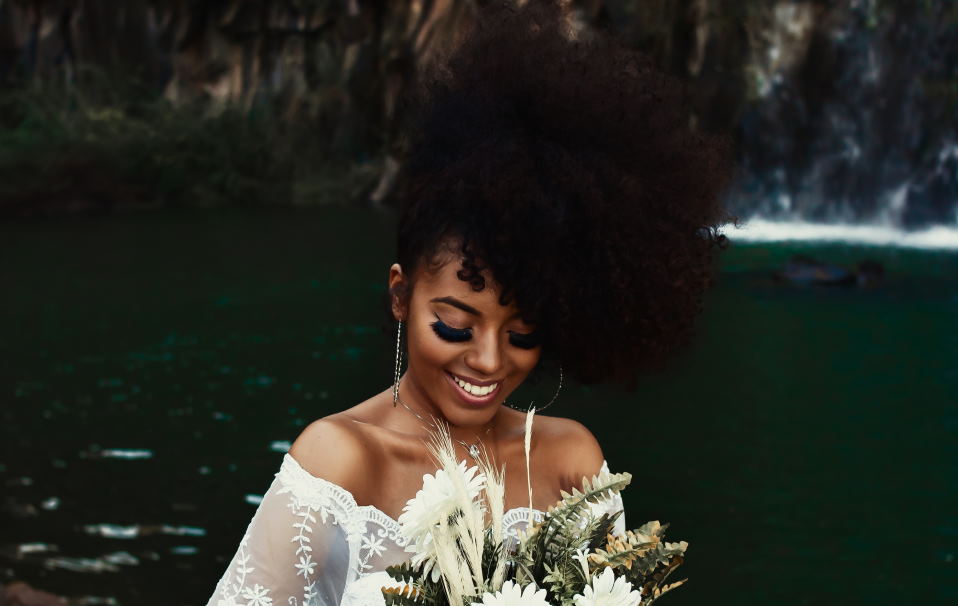 Glowing Goddess
If you want to look like a goddess on your wedding day, then focus on creating a radiant, glowing complexion. Use a shimmering highlighter on your cheekbones and forehead, and pair it with a nude lip.
Pretty in Pink
If you're looking for something a little softer, try a pink Lipstick with winged eyeliner. This classic look will never go out of style and will make you look absolutely beautiful on your big day.
Natural Beauty
For a more natural look, focus on enhancing your best features. If you have beautiful eyes, play them with some dramatic mascara and eyeliner. Or, if you have great skin, keep your makeup simple and let your natural beauty shine through.
Sexy and Sophisticated
If you want to look sexy and sophisticated on your wedding day, go for a red Lipstick and smoky eyes. This is a classic Hollywood look that will make you feel like a true glamourous goddess.
No matter what makeup look, you choose, make sure it makes you feel confident and beautiful on your big day. After all, it's your day to shine!